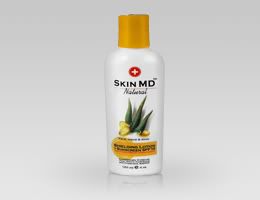 As I mentioned in a previous post, I have been paying more attention to taking care of my skin lately due to my impending 35th birthday this November. I have developed my first two sunspots which is freaking me out! I had the opportunity to review the Skin MD Natural Lotion and Skin MD Natural + SPF 15 Shielding Lotion. I used them for approximately two weeks and was really impressed!
I used the lotions on my hands, face, and body and was struck by how soft it made my skin. The lotions are light, not at all greasy, have almost no scent, and are made with all natural ingredients. I used the Skin MD Natural more on my hands, arms, and elbows. I was amazed that after two hours, my elbows still felt soft! I used the Skin MD Natural + SPF 15 Shielding Lotion on my face most often because I've pretty much had the rest of my body covered up (it's been really cool in NH lately). I love feeling how soft it makes my skin, but I love the added SPF even more!
Skin MD has a wonderful website. I learned so much, particularly about the difference between shielding lotions and conventional lotions. According to Skin MD,
"Skin MD Natural Shielding Lotion becomes part of the outer layer of skin working to strengthen the skin barrier, keeping the good stuff in and the bad stuff out. Conventional lotions don't utilize the skin's own natural moisturizing oils; instead they cover skin with a greasy layer of artificial moisture. This greasy, artificial moisture can send the wrong message that skin is hydrated and doesn't need to produce it's own natural oils that protect and moisturize. After extended use of a conventional lotion skin can form a dependency causing it to become more dry and damaged if use is stopped. With prolonged use Skin MD Natural helps restore the skin's own natural moisture-production cycle that becomes damaged by the use of other, more conventional lotions."
I never knew this! This explains why I have been having to reapply other lotions every half hour on my hands!
Visit
Skin MD
today and learn more about your skin and how to properly care for it!