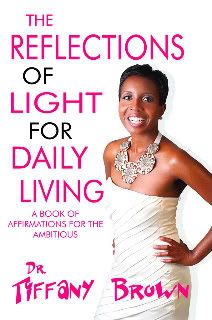 Dr. Brown has
an extensive resume.

It is quite impressive to say the least. If you would like to read more about Dr. Brown's background you can visit her website here.
I definitely consider myself an ambitious person. However, life can be tough and circumstances can affect my motivation and/or get in the way of me achieving what I want. I like thinking positively, but sometimes, that's just plain difficult. I was instantly drawn to reading "The Reflections Of Light For Daily Living" because I need that positive support whether it's from people or from reading materials. I have also been attending religious classes and learning a ton, so the connections that Dr. Browns makes between the concepts and the church is very interesting to me.
I absolutely love that each day is about something different. For example, Day 8: Motivation - "Today is about motivation". I think it is definitely easier for me to focus on one thing each day instead of EVERYTHING, which is just simply overwhelming. With each day, Dr. Brown provides a personal story to help the reader understand the concept/affirmation better and share some information about herself. As I've mentioned in previous posts, I have been feeling the pressure of my birthday coming and I am doing ALOT of reflection about my life and considering options for my future. I love that this book gives me a structure to help me on my way!
I would strongly suggest reading this book if you are in search of inspiration and motivation in your life!
Dr. Brown answered a few questions for us:
What are three things you wish you'd known before you reached where you are now?
The three things are business strategy, marketing and publicity. Each are incredibly important when you building yourself as a brand. I don't think I really understood this component when I was younger.
Can you give us one do and one don't for those aspiring to be a writer?
One do is to be to be strategic about selling your books. Hiring your own publicist may be a good idea to ensure you get your desired response. Don't assume you're a major priority just because you have book deal.
One don't is similar to the do. Do not wait on the publicity department for your publisher . Do not rely on your publisher for everything. You can miss out many additional revenue streams by waiting on your publisher to act.
What one thing about writing do you wish other non-writers would understand?
That it is not as easy as it looks and it is a emotional experience. You are really putting yourself out there; good and bad. You are allow yourself to be complete transparent and it can be scary experience.
I love how you have included your life stories onto the pages and you are so relatable; what has been one of your biggest challenges in life and how did you overcome it?
My biggest challenge was bouncing back from my failed mayoral bid that was a disappointment on a professional and emotional level. It was completely humiliating because I was marginalized and misunderstood throughout the campaign. I felt like people didn't get me; they just stereotyped me.
There were many people that I had supported in the past that didn't return the favor added to the humiliation. I was very disappointed in people that I had respected and loved in every facet of my life. It definitely changed the way I see the world.
"The Reflections of Light for Daily Living: A Book of Affirmations for the Ambitious" that has will be released on October 23, 2010. (ISBN number 978-1-4512-3143-4 Publish America)
http://www.publishamerica.net/product119240.html
The E-Book will be offered for the low price for $9.95. The books are also available through Ingram book distributor.
Win It:
Dr. Brown is offering one of my readers a free, autographed copy of "The Reflections of Light for Daily Living" as well as a Smart Phone App !
To enter:
Please leave your email address with each comment.
Mandatory Entry:
You must follow me publicly through Google Friend Connect. This is required in order for the Bonus Entries to count.
Extra Entries:
1. Follow Dr. Brown on
Twitter
2. Leave a comment on my review.
3. Leave a comment on any other review on my blog and leave a comment and let me know which review you commented on. (2 entries)
4. Follow me on
Facebook
(2 entries)
5. Follow me on
Twitter
(2 entries)
6. Subscribe to Tidbits From A Mom through email (3 entries)
This giveaway will close on November 3rd at 11:59pm EST. I will use random.org to choose a winner. The winner will be notified through email and will have 48 hours to confirm.
Disclaimer: I was not provided monetary compensation for this review. I did receive a free copy of Dr. Brown's book for the purpose of review. All the opinions expressed here are my own.