Within the year after my son was born, I began to notice a drastic change to my skin. I was developing brown patches of skin on my cheeks and my forehead. I first developed a small patch on my left cheek, which I had assumed was sun damage after so many years of driving in the car and the sun hitting my face. Last summer, patches developed on my forehead. Ok…it was weird and I went to the dermatologist. She told me that it was called "pregnancy mask" and develops due to hormone changes in women after they have their babies. She prescribed me a cream, which cost me $90 because insurance won't cover it. I tried the cream and it was only slightly helpful. This summer, patches developed on my right cheek. Ugh…I really didn't want to pay more money for a cream that only partially worked.
Dermagist
is a company that provides "Miracle Cosmeceuticals for Beautiful Skin". Their products include Anti Aging and Wrinkle products, Acne Prone Skin products, and Daily Maintenance products. No matter what your skin concern is (i.e., acne scarring, uneven skin tone, dryness, wrinkles, etc.), Dermagist has a product that can help correct the problem. Dermagist provides a 30 day, money back guarantee.
Dermagist offered me the opportunity to review any product of my choosing. I chose to review the
Skin Tone Correcting System
. This system targets uneven skin, discoloration, and spots. This describes me perfectly! The system involves two steps. First, you wash your face with the Skin Brightening Accelerator, which exfoliates the skin. Then, you apply the Skin Brightening Agent. This is a lotion that helps to brighten your skin and even out the overall tone.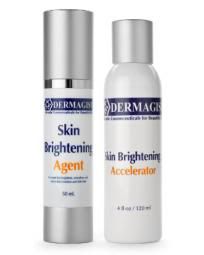 I used this product for approximately one month. Typically in the past, I've used a product for a couple weeks and then I write the review. However, I knew that there was no way the product could work like magic and make my discoloration fade instantly. It would take time. And I was right. It did take time. However, I am so pleased with the results! The bottles state that it's recommended to use these products twice a day. I did this for the most part, with the exception of the nights when I was purely exhausted and I crawled into bed. The Skin Brightening Accelerator has a slight medicinal smell; however, it is not overwhelming and doesn't last long. The Accelerator is very liquidy and you don't need to use very much at all. It foams easily and quickly as well. I also didn't need to use very much of the Skin Brightening Agent for it to be effective. Overall, I think this is fabulous because you are certainly receiving a large amount of product for the price and it will last, making it cost effective!
Would you like to improve the look of your skin? Can you relate to what I have been talking about? Well, I have great news! Dermagist has offered to sponsor a giveaway for one Tidbits From A Mom reader to win a Skin Tone Correcting System! Please fill out the Rafflecopter form below to enter.
*Disclaimer: I did not receive monetary compensation for this post. I received free samples of the above products for the purpose of this review. The opinions expressed here are my own.