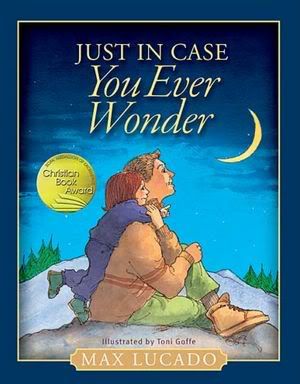 Ever since my daughter was just an infant, I have collected many books that have a common theme – the love that a mother has for her child. I say, "I love you" every single day to my children; however, they simply can't grasp the intensity and magnitude of this love. The authors of the books I buy have such beautiful words that convey how I feel.
I was first introduced to Max Lucado's books while participating in my RCIA classes last year. Although I haven't read his books for adults, I simply fell in love with his children's books. I really enjoy reading them to my daughter. "Just In Case You Ever Wonder" is now one of my absolute favorites. My daughter does not yet know that her father and I lost two babies prior to having her. She doesn't don't think she will understand this until she is older.
One of the things that I love about this book is that Lucado also talks about the fact that no matter what happens and the fact that your child will grow older and change, you will always love them.
"I'll always love you.
I'll always hug you.
I'll always be on your side.
And I want you to know that…
just in case you ever wonder".
Lastly, Lucado talks about how God wishes for parents to teach their children about heaven and explain that it's beautiful, there's no pain, and nothing to be afraid of. One of my favorite lines is in the end when it states that "I will be there, too. I promise. We will be there together, forever".
This book is so sweet and I highly recommend it to parents. Just In Case You Ever Wonder can be purchased at
Amazon.com
and
Barnes and Noble
.
*Disclaimer: I did not receive monetary compensation for this post. I received a free copy of this book for the purpose of this review. The opinions expressed here are my own.