My work environment is essentially all women, with the exception of two men.

My colleagues and I love stationary and cards.

We give them to each other for a variety of reasons, including "just because".

I was recently given the opportunity to review "Text" cards from Pixie Chicago.

Pixie Chicago is a Chicago –based company that specializes in stationary, cards, invitations, and announcements.
More about Pixie Chicago:
"In today's world, where everything is done on the web, it is important to remember how intimate and wonderful a thoughtful card or note can be. Our goal is to bring back the personalized touch of a simple piece of mail, whether it is a handwritten thank you or an exquisitely crafted special occasion invitation."
As I mentioned, I reviewed a set of four "Text" cards.

They are unique and adorable!

They included "LOL", "BTW", "OMG", and "WTF".

The cards and envelopes came in beautiful shades of red, green, yellow, and orange.

They were subdued tones, very calming colors.

I know my friends will they are just as cute as I do.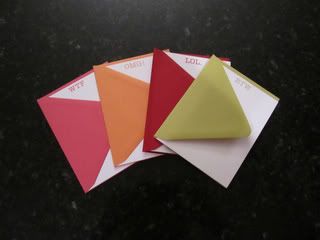 People love to know they are thought of.

Giving a card with even a short, sweet sentiment can lift someone up.

A card such as the one of the "Text" cards I reviewed will make someone smile, which is really important to me.

When I want to share my thoughts and feelings with someone in a card, I look to find the right way to present it.

I definitely feel that Pixie Chicago has the products I need to make people smile.