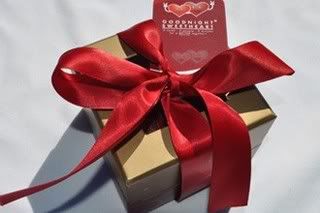 I know that many people can identify with me when I say that making quality time with your spouse or significant other is difficult when you have a family. Balancing kids, taking care of the house, and work can often be draining and overwhelming. My husband and I are so exhausted at the end of the day. We often text throughout the day, but that just cannot replace a personal conversation. Evon, the founder of
Goodnight Sweetheart LLC
, recently allowed me the opportunity to review the game Goodnight Sweetheart – Couples Edition. The purpose of this game is to help couples communicate through simple questions about themselves and their life and share positive comments about each other. There is a long and short version. The long version takes about 20 minutes and includes Action, Wild and Sweetheart cards in addition to the sharing cards. These allow for you to show a little affection! The short version only takes a couple of minutes and includes any of the cards.
I received the game quickly and I loved the packaging!

The game comes in a beautiful box with a red satin ribbon.

The cards are made with thick quality paper.

I loved the fact that the box comes with a tag attached that can be used a bookmark so you can keep your place in the game!
My husband and I had to use the short version due to our ridiculous schedules. My husband found it silly at first, but then had a good time answering the questions. We found ourselves laughing and sharing stories, but also having a meaningful conversation. It was nice not to do this through the phone! After being with him for fifteen years, I know all about the in's and out's of his life, but it was nice to discuss it all. Evon generously gave me a set of the "Night Cap Notes" as well, which say, "Just a reminder, I love you because…" I really love leaving these for my husband. I am definitely a person that is contemplating my "To-Do" List, thinking about my students at work, busy taking care of my children, and not appreciating him enough. So, it's nice to remind him that I love him and I do notice everything he does for me.
More about Goodnight Sweetheart LLC:
"Goodnight Sweetheart LLC provides do-able, easy, and FUN ways for you to better connect with the people who matter most – your "family". As Goodnight Sweetheart founder, Evon Creger, explains, "Having those wonderful moments - heartfelt connections - with your significant other and your kids – THAT'S what makes for a satisfying life. At the end of the day, when you feel CONNECTED to those who matter most to you, you… feel… happy."
In addition to the Goodnight Sweetheart – Couples Edition, there is a Child Edition as well. Tween, Teen, and "Cool Stuff" versions are coming out soon! I could definitely see my daughter loving to play the Child version!
In checking out their website further, I was so pleased to see that Goodnight Sweetheart also donates 5% of the proceeds of each sale to a local domestic violence shelter for women. This is a cause near and dear to my heart and I thought this was really nice.
Evon from Goodnight Sweetheart has generously offered to sponsor a giveaway for me as well! One of my readers will receive a free Goodnight Sweetheart – Couples Edition game!
Here are the details of the giveaway!
Win It:
One winner will receive a free Goodnight Sweetheart – Couples Edition game. Please leave a comment for each entry. Please also leave your email address with each comment.
Mandatory entry:
Please leave me a comment and tell me which other version of Goodnight Sweetheart you would like to own.
Bonus Entries:
1.Follow Goodnight Sweetheart on
Twitter
or
Facebook
. (1 entry each)
2. Follow Tidbits From A Mom publicly on Google Friend Connect. (1 entry)
3. Follow my other blog,
Dearheart Designs
publicly on Google Friend Connect. (1 entry)
4. Leave a comment on any of my reviews on my blog and leave a comment and let me know which review you commented on. (2 entries)
5. Follow me on
Facebook
or follow me on
Twitter
(1 entry each)
6. Tweet the following (allowed 1 time per day for 1 entry each):
7. Subscribe to Tidbits From A Mom through RSS feed or email (3 entries)
8. Enter another one of my giveaways (1 entry each)
This giveaway ends on February 26, 2011 at 9:00pm EST. The winner will be chosen through Random.org. The winner will be notified through email and will have 48 hours to respond.
*Disclaimer: I was not provided monetary compensation for this post. The opinions expressed here are solely my own. I was provided a copy of this product to keep for the purposes of the review.